Classicly handsome face. The man has a body to die for. He's got a reputable career in the NFL. Wealthy. He could probably have just about any woman in the world that he wanted. Standing from the outside lookin' in, it looks like the man just about has it all. Yet, there is a burnin' question that smolders in in my conscience about Reg. WHAT'S WRONG WITH GETTIN' A WOMAN THAT LOOKS LIKE HE DOES??

First, we have Kim. She is indeed a beautiful woman. I will definitely cosign on that. Yet, her rise to stardom was based on a HOMEMADE PORNO. She capitalized on that and ran with it. If you ask me, I don't think she deserves to be epitomized or put on a pedestal for that. Other than her exotic looks and obvious assessts, it is beyond my understanding as to how a man could look at her as serious relationship material.What about the whole cliche about turnin' a ho into a housewife??!! I mean the whole world was able to see Ray J (of ALL people) beatin' her stuffin' up. I should respect her "swag" for that? Reggie not only hit it (and eventually quit it) but made her his woman for a while.
C'mon Mr. Bush, are you serious?? Are there not enough gorgeous, eye-catching, curvy sistas out in the showbiz world? Question. Would he wife a black chick if she had gone to such DRAMATIC lengths to gain notoriety and make a name for herself?



The jury's still out on that one.
Next, behind door number #2 we have...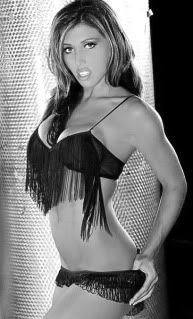 Miss Carmen Ortega. Now, before Kim & Reg parted ways, I had never even heard of this chick. Now, she decides to come forward and toot her own horn about bein' with him when he already had a mamacita. She timed that ish PERFECTLY. She obviously is willin' to put her affair on blast just to cop a couple dollars. This female speciman is reportedly a model/video vixen. What's wrong with Reggie gettin' with a respectable actress or professional woman of some kind?
Again I ask, WHY NOT A BLACK WOMAN?? ARE THERE NOT ENOUGH??