Sometimes I seriously wonder what kind of world we live in. There are more and more people just comin' out of the side of their necks and confessing to things that should be kept under lock and key. I was coastin' down the internet interstate when I crashed into this latest saga:


Miss Stefani Germanotta or better known as Lady Gaga, bore her soul by admitting that she has both male and female...ah...plumbing. I believe the politically correct term for this would be a hermaphrodite. She has freely admitted that she is "not ashamed" about havin' a "poon and a peener." By no means am I sayin' that she should hold down her head in shame about bein' different. Yet on the flip side, I don't feel as though it was necessary for her to put her private affairs on blast.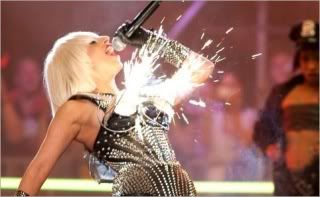 I am a firm believer that some issues should be kept quiet and taken to the grave. Why did she feel like this was something she HAD to reveal? Does she have no decency and pride? I really felt like this was some information that I didn't NEED or WANT to know. In my eyes, I don't see her as some radical pioneer for the rights of hermaphrodites all across the land. I don't admire her for her honesty. I don't look up to her for her boldness. Just because she's in the public eye, doesn't mean all her private info needs to be shared with the whole world.


She calls herself "Lady"? I think some people use this term a bit too loosely.